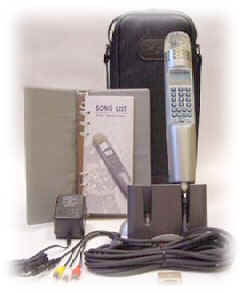 originally: $450
for a limited time: $299!
The Magic Sing system is a special microphone that connects to your TV's audio and video input, much like a VCR, DVD, or camcorder.

This portable all-in-one microphone accepts "song chips" that contain hundreds or thousands of songs. The Magic Sing system has a built in approximately 800 popular English songs. Additional "song chips" are available and they are grouped by language or genre.

- 800 English Songs
- Record & Play Functions
- 4 add'l song chips slots
- Leatherette carrying case
- 16 feet cable
- Power Adapter
- Mic Stand
- Voted best Sound!

More information here

You can also earn $$$ by joining our referral program!